Well, musical instruments are one's treasured belongings and also very dear to heart from the moment we buy them and take them to our homes.
For some, music is a healing therapy; for others, it is a passion or even profession.
Wherever you go, your musical instruments tag along. If you move to a new place along with other items, your musical instruments move as well.
When it comes to moving your musical instruments, it takes a lot of care and attention as musical instruments are delicate items, and if not handled with care, they might get damaged.
So whenever you are planning to move your musical instruments, make sure you take help from professionals as they have all the right equipment, knowledge, and skills to cater to your needs.
Different musical instruments have different moving needs due to their built, size, material, and model. Some have strings; some are wooden, some have keys, while the other has delicate material.
Each of these musical instruments needs skills and the right equipment to allow a breakage-free relocation.
When you are planning to move, first of all, make a separate list of the musical items you need to move and then buy the right packaging material and carefully pack them.
If you do not have time to pack your musical instruments by yourself, ask your instrument removalists to pack them for you.
Also, if you are concerned about the quality of packaging supplies, supervise your removalists to bring the right packaging that best caters to your needs.
Then pack your musical instruments, and once they are all set to be moved, be extra careful while loading, storing, or unloading them.
Apart From These, There Are Certain Tips And Tricks That You Should Follow To carefully Move In Your Musical Instruments
Packaging supplies- Make preparations and get the right packaging supplies for your musical instruments. Make sure to not use regular packaging material as musical instruments are delicate items, and they might get damaged if not taken proper care of.
Get bubble wraps, vacuum wraps, Boxes, and seal tapes.
First, pack your instruments in their original instrument case, then pack them with bubble wrap, seal tapes and pack them into boxes. Get the right fitted wrap and boxes to avoid any breakage or loss.
Disassemble- Try removing loose parts of removable parts from the instrument and pack them separately; they will be more convenient to be packed and carried.
Label and mark delicate instruments- Always mark and label the delicate instruments so that the removal company pays extra attention while moving the delicate instruments and moves it carefully.
Storage- If you are planning to book a storage facility for your musical instruments because you can not go around with your instruments until you get settled, make sure that the storage facility is climate controlled so that your instruments do not get damaged.
Most instruments are made of wood, and wood is most likely to get damaged if exposed to moisture. While keeping wooden instruments in storage, make sure there is no source of moisture and book a climate-controlled storage facility whether you are booking it on a temporary or long-term basis.
If you manage to book a reliable and safe storage facility for your musical instruments, you can rest assured and forget all your worries.
Safe Removal Tips For Your Musical Instruments
Piano- Remove loose and removable parts and lock the keyboard. Use lots of bubble wraps, seal tapes, duct tapes, towels, blankets, extra paddings, etc., and make sure to secure the legs and pedals by using extra wraps around them.
Stringed musical instruments- Loosen the strings in advance, adjust the tuning keys and remove loose parts. Grab the original instrument cases and pack them safely. Then grab different size boxes and bubble wraps, add some extra paddings and pack your stringed musical instruments carefully, and you will be able to move your stringed instruments without any damage to them.
Drum sets- Get big boxes, spacious enough to fit in your drums, fill the empty spaces in the box with bubble wraps, etc. To avoid damage to your drum set. Remove the cymbals and pack them separately; use blankets and extra paddings to avoid damage to the head of the drum.
Woodwind and Brass instruments- Get the original case and keep the instrument in the case carefully, then take out the removable parts and pack them separately. Then, pack it with bubble wrap and vacuum wraps to avoid breakage of all sorts. Then grab different size boxes and pack your woodwind and brass instruments and enjoy a damage-free move.
What Qualities To Look For In Instrument Removalists For Safe Removal Or Move?
Reputation- Find the most reputed instrument removalists like piano removalists who are reliable and trustworthy.
Customer network- While picking an instrument removal company, check their customer network and trustworthiness. Go through the reviews and testimonials on their website and see if they fit your expectations.
Skills and Knowledge- See if the instrument removalists you are planning to book have the right skills and knowledge of instrument removal. Your instrument removalists must have specific skills and knowledge of musical instrument removal.
Use of High-quality equipment- See if the company you are planning to hire or book uses the right and high-quality equipment specifically designed for musical instrument removal. The key to safe instrument removal is using the right and high-quality equipment while handling musical instruments.
Trained professional staff- The most important quality to look for in a musical instrument removal company is their professionalism, training, and ability. Musical instrument removalists must be highly trained for musical instrument removal.
They should be specifically trained for musical instrument removal services. Moving musical instruments can indeed be stressful, but with the right planning and implementation, you can enjoy the removal process hassle-free.
Be prepared for the move, make a checklist/ to-do list, make preparations, and seek help from the right and apt removalists to enjoy a safe and stress-free instrument removal or move.
If you organize the whole process and follow these tips and tricks, you can ace the removal game in no time.
We provide you with the best Furniture Removals Services at amazing price deals. For more information about our relocation service click here.
You can contact us on the number 1800 870 500

or send us an email at info@movingchamps.com.au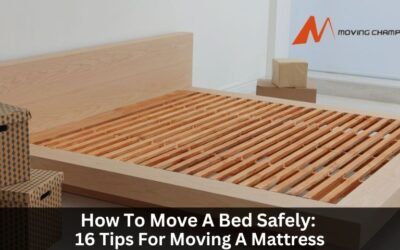 Moving to a new place is an exciting adventure, but it comes with its fair share of challenges. One of the most significant tasks on your moving checklist is to move a bed. And you must be thinking about how to move a bed efficiently and without a hitch. After all,...