Moving is not only challenging and costly but also time-consuming and dangerous. You can't just up and leave, no matter how badly you want to.
As the Big Day of moving approaches, you'll need to plan ahead of time and make various moving preparations.
So, how much time will it take you to plan and execute your move?
How long does it take to relocate?
How quickly can you relocate your residence?
Continue reading to find out!
Although the length of time it takes to relocate varies depending on the circumstances of each case, the average time to relocate is believed to be between 8 and 16 weeks.
The following is a list of the times required to complete the various steps of the relocation process:
What Is The Average Time It Takes To Buy And Sell A Home?
The first step is to choose a suitable new residence when it comes to moving. It could take anywhere from a few days to a few months to discover the perfect home for you and your family;
you'll need to explore the housing alternatives in your new location and view numerous places that appear to meet your specifications and preferences before deciding on the finest one for your family.
How To Sell Your Home And Find A New One Before You Relocate?
If you plan to apply for a mortgage on your home, consider that the approval process will take four weeks. After that, the transfer of ownership will take roughly ten weeks to complete (making the offer, conducting the conveyancing process, getting a house survey report, and closing the deal).
The process will be considerably quicker and smoother if you rent your home. Once you've located the perfect place for you, completing the lease contract will take a week (until the future landlord of your new home performs a background check on you and the lease details are agreed upon).
You will need to arrange the sale of your old home while looking for a new one – it will take a few weeks to stage the house for sale and get a few valuations then. There will be viewings and negotiations of your house with potential buyers, home surveys, and various other details to be taken care of while looking for a new home.
The complete procedure takes about two months on average, although it could take considerably longer depending on:
The sort of property you have

The property's location.

The price you're looking for
If you're leaving a rented property, you should study the terms of your lease agreement and tell your landlord a month in advance of your departure.
What is the average time it takes to find a moving company?
How Long Does It Usually Take To Locate A Moving Company?
It's time to plan your move after knowing where you're going and when you'll be there. The first step is to engage the assistance of reputable and experienced moving specialists who can help you complete your relocation successfully.
Finding the best house movers for you will take about a week – you'll need to investigate your alternatives, receive recommendations, and fill out a moving quotation form to be contacted by many trustworthy movers in your area.
For on-site estimates, contact three or four movers that appear to best suit your needs and specifications, interview them to obtain as much information as possible, discuss the details of your move, compare the offers, and select the most acceptable moving partners for your relocation.
The earlier you engage the moving services of a reputable moving company, the better; therefore, do your research and make your decision about 6-8 weeks before your desired moving date.
If you've opted to relocate yourself, you'll need approximately a week to find a suitable (and reasonable) moving truck to hire and all of the essential moving supplies.
How long does it take to prepare for a move?
You'll need to take care of several other moving responsibilities and schedule your relocation.
It will take you about a month to complete the following documentation requirements:
Personal paperwork and financial information should be collected and organized.

Obtaining the medical records of your family.

Obtaining health certificates and immunization records for your dogs.

Obtaining the school records of your children.

Address modification.

Obtaining a new registration certificate for your car and transferring your driver's license.

Transferring utility services.

Cancellation of subscriptions and memberships, among other things.
Sorting and organizing your possessions will take a few days to a few weeks (depending on your household size).
How To Tell If You're Ready To Relocate
This should be done around 6-8 weeks before your move so that you have enough time to deal with the things you won't be moving by selling or giving items you no longer need that are still in excellent condition and discarding any that are worthless, worn out, or broken.
Allow yourself a day or two to make a moving inventory of the stuff you'll be bringing with you to your new residence. Your moving inventory list will assist you in keeping track of your belongings and will also serve as a checklist.
Keep in mind that selling your unwanted stuff for a profit will take a long time – you'll have to hold a garage sale or list the items online, then arrange payment and delivery of your move.
How Long Does It Take To Pack A House In Preparation For A Move?
Packing for a move is a stressful and dangerous activity that must be handled with extreme caution.
When packing up your whole home for a move, you must provide enough time to ensure the best possible protection.
Your possessions – packing in a rush may cause damage to your belongings because you won't have time to care for each one correctly.
To ensure the safety of your stuff, you should begin packing as soon as possible and devote a couple of hours per day to the work.
If you pack your belongings, the average time required for each task is;
A studio or one-bedroom apartment takes 12-16 hours to pack; a two-bedroom house or apartment takes 25-30 hours to pack; an average three-bedroom home takes 40 hours to pack, and a four-bedroom house takes 50-55 hours to pack.
Keep in mind that packing your home's storage rooms – garage, basement, attic, and so on – will take more time and effort than packing a standard room, so do it first while you still have plenty of time and energy.
Also, double-check that you have all of the required packing goods on hand since going to the store for more in the middle of the packing process will be inconvenient.
If you've hired experienced packers like moving Champs to help you, they'll do the workaround:
2-3 hours for a studio or one-bedroom apartment;

3-4 hours for a two-bedroom house or apartment;

6 hours for a three-bedroom home

Eight hours for a four-bedroom home.
We have many packing teams available when needed to expedite the process.
Conclusion
Moving time also depends on the speed of the moving team you hire to move your possessions, so if you want to move your house or move your office to a new place, then hire our expert Moving Champs to move your belongings to a new location safely and quickly. 
For more details and quick free moving quotes, contact us today.
Call On –  1800 870 500 OR

Email At – info@movingchamps.com.au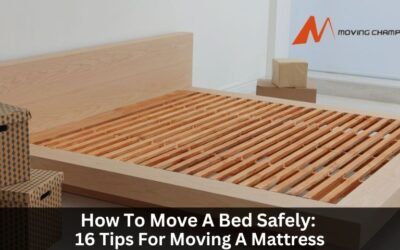 Moving to a new place is an exciting adventure, but it comes with its fair share of challenges. One of the most significant tasks on your moving checklist is to move a bed. And you must be thinking about how to move a bed efficiently and without a hitch. After all,...