Moving can be a complicated process. You'll need to pack dozens of moving boxes and figure out the logistics of the entire move. It's no surprise that many homeowners hire Australia professional movers to help them save time and money.
You have two choices for moving services: employ small movers or engage a large moving firm in moving services.
Although their services appear similar on paper, many distinctions make them more suited to specific relocation situations. It is always worthwhile to consider hiring a removals firm to relieve you of some burdens.
We'll highlight the distinctions between small movers and large moving firms to assist you in making an informed selection.
Position In The Industry
Many customers choose large moving companies because they provide a more thorough service. They work with both homeowners and company owners who want to move into a new home or expand their workspace.
Moving businesses with a long history have a reputation to keep. Therefore their services are held to a higher standard than those provided by newcomers.
You can't go wrong with hiring a large moving company Australia, especially if you have a lot of furniture and possessions to transport.
On the other hand, small movers are limited to only a few jobs. That isn't to say they can't deliver a high-quality service to their customers.
If you're moving within the city and don't have a lot of items to transport, small movers are ideal. In comparison to large moving companies, their services are also less expensive. Small-time hiring operators can be better if you want to move into a nearby neighbourhood.
Prices Are Changing
If you're moving inside your city or county, a locally owned, smaller moving business is likely the most cost-effective alternative. However, national companies will likely be less expensive if you travel great distances.
This is because they provide freighting services (where your belongings are packaged alongside other people's belongings and transported across the county).
If the national moving firm has a job waiting for them at their destination, you won't have to pay for gas for the return trip.
Human Resources
Big moving firms have the staff and equipment to make relocating a snap, from hand trucks and appliance trolleys to 26-foot moving trucks with GPS.
Their team of skilled removalists can load and unload your furniture quickly, regardless of the size of your home or office. Big moving firms also have a lot of industry ties, which can help with the logistics side of things and speed up the moving process.
Small movers make up for their lack of resources with competence and experience. Small-time operators are well-known in the community and are intimately familiar with their customer's demands.
This can lead to stronger client relationships and a personalized service that rivals larger moving companies. Limited personnel can sometimes be helpful because they focus more on their client's needs than handling numerous moving operations.
Customer Service Is Essential
The large moving company will almost certainly have a hotline you may phone, which a team of service agents will answer. You won't get customized customer care, and you won't likely obtain any additional services such as advice or support.
Local, small moving firms, on the other hand, have a reputation to uphold and rely heavily on word-of-mouth referrals, so they will go out of their way to provide excellent bespoke service.
Of course, this isn't always the case, as some local movers offer poor customer service. You must carefully interview and investigate the company!
Service Delivery Time
In terms of service speed, large moving businesses have an advantage. They can transport their clients on time, whether they're going across town or the country.
They hire a team of experienced movers specializing in various tasks such as packing and carrying furniture. The entire transfer is overseen by an operations manager, who ensures that everything goes as smoothly as possible.
Small removalists are at a disadvantage in this situation. They may take a little longer to move their clients because they don't have the staff or equipment.
Some of their clients may not be able to move across the country with them. On the other hand, small-town operators are more than adequate for your needs if you're moving nearby. They're likely to know the best ways through their neighbourhood, speeding up the moving process.
Provided Services
More services, such as storage, packing and unpacking, vehicle transportation, and boat transportation, will be available from national moving businesses. Local movers may not be able to supply these services, but they may be able to arrange them for you through third-party providers.
Service Quality
Because it is within their budget, huge national moving companies will usually provide clean, well-maintained trucks and equipment. Many locally-owned moving firms have excellent trucks and equipment, but they could also show up in an old beat-up truck, so do your homework!
Service Excellence
Moving firms do not all offer the same level of service. Some people are above average, while others are simply inept. A trustworthy organization with a proven track record will gladly answer any queries you might have and guarantee the quality of its service.
When choosing a moving business, we recommend reading customer reviews, asking past clients for comments, and gathering adequate information on the internet.
Small movers are in the same boat. Ask around your neighbourhood for recommendations for the best small-time movers in town, and you're sure to get a few.
Small movers are lovely because there are just a few of them in your area, so you won't have to worry about figuring out who's qualified and who isn't. Still, a comprehensive background check is recommended, so you know what to expect from their services.
Conclusion
A small mover and a large moving firm depend on your requirements. To make your next big move as stress-free as possible, compare the differences between these two moving services.
For more details and quick free moving quotes, contact us today.
Call On –  1800 870 500 OR

Email At – info@movingchamps.com.au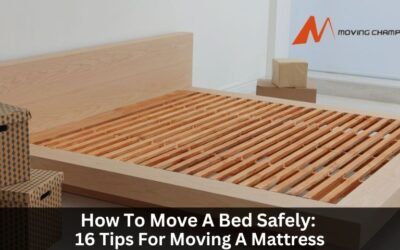 Moving to a new place is an exciting adventure, but it comes with its fair share of challenges. One of the most significant tasks on your moving checklist is to move a bed. And you must be thinking about how to move a bed efficiently and without a hitch. After all,...