Home relocation is not an effortless task, and unfavourable weather conditions make things more difficult. Moving in winters can be the cheapest time to relocate or rent an apartment.
Although it comes with a different set of challenges, it does save money if you decide to get relocated in winters. So, you have to make sure that you're well equipped to face the upcoming challenges. If you prepare properly and plan the entire move, you'll experience a smooth move.
The weather will be a big challenge to overcome, especially if you come from an area known to have frigid climates. For those kinds of difficult climates, it is best to book professional movers and packers to do heavy-lifting.
Here are 20 tips that we swear by when relocating in winters. These tips are pretty essential so let's get to the main valuable tips that will be extremely useful for you while you relocate during winters.
Confirm All The Details With Your Movers
Waiting to relocate in the winter is pretty smart, but it can be a complicated task without professional help. Winter is undoubtedly the off-season of moving companies, so you have many dates and options to choose from.
Just make sure everything, like the date and time of removal with your movers, a week before the move and a day or two before the relocation is planned.
Confirming with your movers will help ensure that you and the moving company are on the same page. Because in winter, we all know the weather can become unpredictable anytime soon. We would suggest you be flexible with your plan and let the movers know any of your concerns.
Keep A Sharp Eye On The Weather
Always keep checking the weather and prepare accordingly. Check it every week as you come near to the move day and then every day the week of the move.
Contact the moving company and express your concern if you're worried about the weather. It is always better to be delayed than to get caught in a blizzard or an extreme weather condition.
Cover Your Floors With Plastic Tapes
You need to take care of making sure that your house stays clean and your carpet is protected while people are hopping in and out.
Try keeping your new home neat and clean as constant moving in and out can make your floors dirty due to the snow and dirt outside. You can cover the floors of your house near the outside doors with cardboards or floor mats.
You can grab some cheap plastic coverings from the nearest local hardware store and lay floor mats down at every outside door.
It will help to keep your new home neat and clean. Always remember to make arrangements beforehand for covering the floors and entrances with necessary materials.
Be Flexible With Your Plan
This is one of the essential tips you will get. Keep checking on the weather before moving in the winter, especially if it's snowing outside. Consider rescheduling with your house removalists company if conditions get bad.
Moving your stuff should not come at the cost of your safety! weather is pretty unpredictable in winter, so always be aware of the surroundings and keep your plan manageable.
Keep in mind that moving in winter can take more time than you expected. The moving companies are likely to have more flexibility in their schedules during the winter. You've got to be flexible with the date of the journey depending on the weather and plan accordingly.
Turn The Heat Off
People will inevitably keep hoping in and out of the home the whole day of the move. Just imagine how that will affect your furnace; the home won't be warmed uniformly, so using a heating system is a waste of electricity and money. Turning off the heat will result in lowering your electricity expenses.
Although, if you have a heater in one specific room, close the windows and the doors of the room to avoid the heat from escaping. You can also put on a space heater in the main floor bathroom and keep that door closed. This will give you a warm fuzzy feeling when you are taking care of your business.
Leave Off Your Children Or Pets To Your Relative's Home
Babies and pet animals are known to be fidgety, which will create havoc while shifting heavy items. Just imagine having your baby or your pet under you while the furniture removalists try to move heavy furniture.
Not a pleasant scenario, is it? Moreover, if you turn off your heating system, they would have to stay somewhere warm or else they'll get sick.
So, it is better to see them off at your relative's or friend's place for a day or two. For the fur animals, you can check out local kennels with heated floors.
Make Sure To Clear The Sidewalks, Driveways, And Streets
Make sure to salt, shovel, or snow blow any major walkways that the movers will use so they can walk safely along with their belongings.
Nothing is more dangerous than carrying heavy furniture down a snowy sidewalk. Clearing out the sidewalk and driveways will be of great help to the movers.
It will be easier and will avoid accidental skits like people getting slipped while lifting heavy things. It is necessary to do the same in case of your new home location and make the walkways clear and snow-free. That will act as a bonus to help make a move smoother.
Check Your Car Before Relocation
Your car has to go through a thorough check-up in which you and your family will be travelling or the move. This is important because if your car has a problem due to bad weather and bad road conditions, you will have to wait in the chilly winter month for help.
So service your car by a professional mechanic to avoid any possible accidents. You should carry extra tyres, extra fuel, shovels, ropes, and ice scrapers, just in case.
Check The Utilities At The New House
It can make you stay hell at your new home if there is no heating system in the dead of winter. We recommend getting everything at your place about two days before your move.
Prepare the covering floors, and prior arrangements must be made in your new space to treat yourself to some warmth in the chilly winter weather.
Take this seriously, or you will be left with no electricity, gas, or heater in the cold chilly winters. Even if you can't arrange the heaters in advance, you can make the connections a few days before making things easier when you reach there.
Have Sheets, Towels, Gloves, And Blankets On Hand
You are halfway through moving your furniture, and the snow starts pouring down the skies. At this point, if you don't have extra sheets or blankets near the front door, the movers will have to carry the exquisite antique writing desk through the downpour without any protection whatsoever.
Gloves are also vital in winter conditions; when moving, your gloves might get soaked or inadequate to handle the whole move. So, grab a couple of extra pairs of warm gloves on your next trip to the local store and offer the movers an extra layer or replacement when it starts snowing outside.
Warm-Up Your Insides
Keep a pre-made mix of hot chocolate or hot apple cider continuously heating in the kitchen – for your family and the movers. Make a concoction of ginger-flavoured black tea with added cardamom and cloves, and some honey. It is medical for a through and cold.
When you feel exhausted, or your hands and face have frozen, or the poor movers are looking tired and frostbitten, call for a break and serve them a cup of hot cocoa. You'll feel better in the chilly weather, and the movers will be grateful for this small, thoughtful act of yours.
Double Pack The Fragile Items
The things that are delicate or extra fragile become more prone to breakage during winter. You can help your movers out by double packing your fragile items, so they're less likely to break while in transportation. Always remember that any items that can be damaged by cold should not be packed in the truck or the van directly.
Always make sure to wrap up delicate items in bubble wrap or clothes 2-3 times to ensure safety. For items like glass, dishes that are easily susceptible to breakage due to frequent temperature fluctuations, you can also double wrap them in blankets.
Pack All Your Belongings Carefully
Protect your belongings by packing them in portable containers. Electronic devices don't like cold weather because they may get moisture into them.
Carefully pack all electronics into one or two boxes, and make sure those travel in your car, where the heat will be on, and they can maintain a steady temperature. You can also use portable storage containers; these are a good option during this time to keep your belongings safe.
Alternatively, you may carry such easily breakable items or electronics appliances in your car rather than placing them in the portable space. Winters can be ruthless, so try and cooperate with the movers and understand their point of view. It's no doubt that your movers can't control the weather, and they probably feel colder than you are, so always regard what they say.
Keep Winter Essentials With You
It is a great idea to make room in your car with a pillow and sleeping bag, but ensure that you have extra clothing layers, coats, snow boots, scarves, hats, gloves, and a handful of soft and cozy quilts or blankets in the car.
Falling sick in this icy cold weather is expected, so take necessary precautions for yourself and your family and save yourselves from it as that is the last thing you want to happen.
Before getting started with the journey, drink coffee to keep your body warm. You may carry them in a flask during the move as well.
Make sure to wear warm clothes and cover almost every part of your body. However, it is important not to overdress as sweating might happen, leading to a cold and cough. So dress accordingly.
Start Your Journey Early
Anyone with little knowledge of moving and packing would suggest you start your journey early. This is because on winter days, sometimes the condition of the roads is not good, so the journey may take more time than expected.
Therefore, to avoid reaching your new home late, especially if the distance is long, you must start the journey beforehand to reach there on time. Better to be safe than sorry.
Additionally, winter days are pretty short, so it is best to avoid traveling in the dark or at night and try to reach your destination in the light.
Use Portable Storage Containers
It would help if you tried to use a portable storage container for home relocation in the winter season. It will make sure that things remain dry and safe during the journey. It will also give protection to your belongings if there's any sudden change in weather.
So avoid taking the risk of pulling a trailer behind your car at all costs in adverse chilly weather and bad road conditions. Be ready for all kinds of situations and make decisions wisely. Before making any significant decisions, make sure to consult the experts.
Plan The Route Of Your Journey With Extra Care
Planning your journey is essential, and you have to do it with utmost care. Check for alternate routes if possible, just in case the primary route is not functional.
Be careful of what road you choose. We suggest you hire professional movers and packers and discuss which route will be safe and easier for traveling.
Expect climate change anytime, and it may start snowing suddenly, or a blizzard might happen. Additionally, winter days are pretty short, so it is best to avoid traveling in the dark of the night and reaching your destination in the light.
Never Plan To Move On Your Own
This is not the best time for do-it-yourself as home relocation is a hectic and messy task that will be made more difficult by unfavorable weather. Therefore, it is advisable not to risk your home relocation in adverse weather and take the help of professional house removalists.
Professionals will do the job efficiently, and you won't even be that stressed or confused compared to when you would do it yourself. After booking the professionals, you have ample time to address other concerns.
Tip The Movers Well
A relocation during the winter does not cost you a lot because the service rate of removal companies are cheap during these days, so your movers might not be getting paid extra to deal with the adversities of snow, ice, and wind. The wild winter weather is a lot to take, but the workers can successfully move.
So, try to help them out in every way possible and make hot drinks to keep them warm throughout the relocation. They will be grateful for it as it acts as a lifesaver. Be thankful to them for coming out in the winter, and make sure they each get a good tip to reinforce your appreciation.
Always Take Professional Help
Always choose an experienced and professional packing and moving company to help you out with relocation in winter. Experience is essential when you are choosing a packing and moving company.
So start researching for the company you want to go with, take your time and choose an experienced and trustworthy removalists for your move.
Such companies will have equipment ready to protect your goods from adverse weather changes during winter. It is necessary for all but is mandatory for people who live in places that experience extremely chilly winters.
Conclusion
Moving in the winter doesn't have to be that hard. With a bit of planning and proper execution, you can make it a smooth move despite the weather.
There might be quite a bit of challenge that you would have to overcome. To avoid such situations, you have to plan systematically and take special care to protect yourself, your family and your goods from the adverse chilly climate.
Home relocation is never easy, but if you plan things systematically, you can make the whole procedure smooth. Many do not consider home relocation in the winter season, but it has many benefits over home relocation in the peak season of summer. If you are ready to take a bit of risk, you will benefit a lot.
Since we are a professional moving company, we provide all kinds of moving and packing services. We make sure to leave our customers satisfied as it is vital for us.
We always put your concern before anything else. At Moving Champs guarantees you to give the best deals and offers on our top-class moving services.
We have been reigning in the moving industry for a couple of years and have hundreds of 5-star reviews. Your comfort is our main focus. Happy moving!
To get the best quote, you can Call On – 1800 870 500 Or

Email At – info@movingchamps.com.au.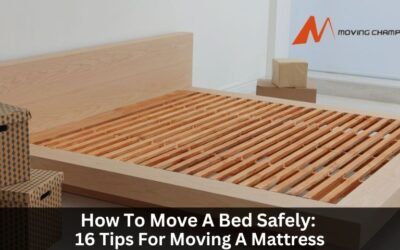 Moving to a new place is an exciting adventure, but it comes with its fair share of challenges. One of the most significant tasks on your moving checklist is to move a bed. And you must be thinking about how to move a bed efficiently and without a hitch. After all,...