Are you looking for a moving company? 
Moving is a challenging task that leads to much stress. Hiring professional movers will help you to relieve your anxiety. 
Multiple factors contribute to making a company the best! Like its experience, reviews of people, moving quotes, and many others. So when choosing a moving company, keep essential things in mind. Since there are many moving companies and among them choosing one with the best feature is not a joke. Why compromise when spending money? Many moving companies are experienced and have been growing over the years as more people avail of their services. 
Are you actively searching for a moving company? Is it your first time, and you must learn how to compare moving companies?
If you are inexperienced and have yet to hire a moving company, this information will help you compare movers and moving company quotes. 
For a detailed moving comparison, read this until the very end, and surely you'll get a basic idea. To choose the best possible moving company for a local or an interstate move, you must compare moving companies.
Here we will be discussing it all in detail, that'll help you to make an informed decision about choosing a moving company. Just remember that when you compare moving companies, it's not just about comparing quotes and rates of movers; there is more to it. So, you must know how to compare moving companies and choose the right one to relocate to. 
What are the 5 essential factors to compare moving companies? 
1) Company's Specialization
Compare the service specialization of moving companies; as you already know, moving companies offer several services. Among them, few remain the same, and a few of them differ from various moving companies. But there are certain basics, including:
Door-to-door local shifting 

Interstate and long-distance move

Relocation of International shipping of home and offices, 

Self-storage and warehousing services 

Vehicle shipping service 
A national mover that offers all these services is usually a big company with a dedicated team to handle all of these services. Similarly, a standard moving company may not offer international shipping and store shipping and storage, but they might specialize in local and interstate household shifting. The main thing to note when comparing the services is to look for the specialization of the company you consider for hire. 
If you are looking for local home shifting, you should prefer to work with a company that specializes in local shifting, but if you are after international moving, you need a company that specializes in handling international shipping assignments, and the same with interstate relocation needs. The type of specialization, infrastructure, reputation, and credibility of the company will significantly impact other overall prices. So, when comparing moving companies and picking one, you must consider the type of services and specialization. 
2) Reviews And Feedback 
Consider the Views and feedback of the moving companies before hiring them. Although most moving companies publish testimonials on their website, take your time judging the company by looking at all the positive reviews because that may not be true. Check the reviews and feedback of all the moving companies you are considering. 
It would help if you instead looked for publicly available reviews and ratings of the moving companies you are evaluating. The best way to check publicly available reviews and feedback is to search on google. Moving companies are listed on several business directories, including google local business Listings. Of course, it's possible to post fake reviews, but these publicly available reviews can give you a fair idea of what people think about the services of the specific moving company.
You don't need to take very positive reviews seriously, but you must agree that it's easier to distinguish fake reviews from genuine ones. So check the reviews and ratings on all available platforms and business listing websites, and it'll help you select the correct one. 
3)
Compare Moving Quotes 
Staying budget-friendly during a move is very important because when you are moving, there are tons of other things you need to take care of that involve spending money. Also, when comparing moving prices, remember that the charges in the same area vary greatly. Therefore, moving quotes are a significant factor in comparing different companies.
Gather and compare the rates of all the moving companies you have chosen and then see what kind of services you need. Usually, the moving prices depend on what you want to move, so first, list the belongings you wish to relocate. Then go for comparing and selecting the professional movers' team. While the cost is the key and should be your priority, it shouldn't be the sole factor to focus on. If a moving company offers meager prices and things seem fishy, go for another company. You can also reach out directly for an estimate so they can guide you better. 
Also, while finding rates request quotes and estimates from moving companies, do not trust verbal and on-phone quotations. The movers may need an accurate idea of the movement's size, but when they see the belongings, they might change their minds. So, avoiding phone quotations would help you eliminate additional charges. Instead, you better invite the moving companies to send their representative or manager for a pre-move survey. Every moving company offers a free at-home survey which helps them take stock of the inventory and get the accurate move size, which is critical for the pricing. 
Here's a look at how to evaluate the offers and estimates you have received before choosing your move partner.
a) Packing charges
Packers and movers are going to pack your goods. Therefore, they need packing materials and hence the packing charges. Packing charges primarily depend on your requirement, so there will be packing charges based on the size of your belongings.
b) Handling charges or workforce costs
Handling and human resources costs are self-explanatory. To pack, load, and unload, the movers will charge you, which is the handling fee. It's again a fundamental factor that almost all companies count on when estimating the moving quote. 
c) Transportation charges
Transportation charges depend on the size of the vehicles that will be required and the distance. As a result, local transportation charges in the same city or neighborhood may sometimes differ.
d) Insurance
There will be an insurance charge based on the value of the goods. So insurance is a must for the safety of goods to avoid damage. Instead, it would help if you went for full insurance to keep your protection in mind.
e) Hidden charges
Apart from what's being quoted, the moving companies may come up with different excuses, so ensure that there is no hidden fee.
While comparing the quotations of moving companies, it's easier to fall for the lowest price quote. This is because you want to get your goods packed and pushed for the lowest fees but do look at other aspects of the quotations. So, also consider evaluating the companies on other essential parameters.
4) Compare Services And Availability
Once you compare moving quotes, the next step is reaching moving companies. Standard moving services usually include packing, unpacking, packing fragile items separately, assembling and disassembling furniture, and moving large and small items into the new place. 
Once you have decided on a moving company and booked their services, see their availability, how many hours or days they will complete their job, and how they go about the moving process. 
5) Compare License and Insurance
After you have compared the reviews, prices, and services, then comes the time when you have to compare the licenses. Checking the moving company's license is very important as you will be assured that the moving company is authentic and professional and will not be a fraud. It will also ensure that your belongings are in safe hands.
Also, make sure that the moving company has a valid Department of Transportation on rotation. 
There are tons of moving and storage companies around, all claiming to be the best, most significant, and highly competitive with their pricing. But how can you be sure of their claims unless you pick one of them and compare them on multiple parameters against their peers?
We have identified the best ways to compare moving companies. There are many parameters that you must consider while comparing movers, including:
Their rates and charges

Reviews and feedback

Business credentials and license

Service specialization and branch network

Transportation and Availability
Conclusion
Follow these tips while dealing with a moving company, and don't hesitate to contact us anytime if you go through any doubt or confusion. Our movers at Moving Champs Australia will always be there to clear all your doubts. 
For more details and quick free moving quotes, contact us today.
Call On –  1800 870 500 OR

Email At – info@movingchamps.com.au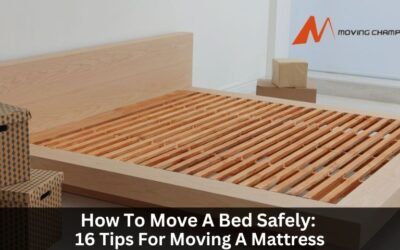 Moving to a new place is an exciting adventure, but it comes with its fair share of challenges. One of the most significant tasks on your moving checklist is to move a bed. And you must be thinking about how to move a bed efficiently and without a hitch. After all,...