Most people relocated their offices to their houses in the previous year due to circumstances and teleworking. Many people have become accustomed to this task since the outbreak began, but the reality is that we do not always have the right area to work comfortably for eight hours straight every day.
But what if now!
You're putting in a lot of effort and bringing on new clients. Your company is fast expanding as a result of your efforts. Working from home while retaining high productivity can be challenging to adjust to.
You may have hit your limit and require a change of scenery in the workplace. It might be beneficial for your company in this case.
As entrepreneurs, we've all started someplace. Although you may be scared to leave your house, it is necessary if you want to expand your business. Moving a home office is not the same as moving home. These are five indicators that it's time to leave your home office.
Do You Want To Make More Money?
If you run a firm that requires face-to-face meetings, having a separate office allows you to portray a professional image to clients.
Customers who have access to a private location are more likely to trust your services and products. It is not suitable for your children or dogs to interrupt you and your client while conducting business.
A home office can be a valuable tool, especially for firms that require specific services. You'll be able to attract more consumers and earn more money.
Your House Appears To Be Smaller
If you're having difficulties finding adequate room for your scanners and printers, you'll quickly realize you're running out of space. This can impact your productivity, focus, and customer interactions.
It's hard to take over all of your homes without causing significant disruptions in your everyday routine. Stacks of boxes and papers can also indicate that your office space is insufficient.
As a result, it's time to relocate to a more prominent and more suitable location where you may be more creative without limitations.
It can be pretty expensive to remodel your home office. It is preferable to relocate your office to the outdoors and then find another solution.
Are You Prepared To Hire Workers?
Customer service is a difficult task. You can only go so far once you realize how inefficient your situation is. We are incredibly proud of and accountable for the quality of our work. However, we are unable to complete all of the duties at once.
Hiring people to assist you in focusing on your craft and providing excellent customer service is a wise decision. To hire personnel, you'll need a larger office. Consider how many individuals you want to hire, and then rent an outdoor place large enough to accommodate everyone.
Feeling Lonely
It's possible that a home office isn't for everyone. After a long day at work, it may appear to be a welcome change. However, working from home may make you feel alone if you are an outgoing person.
You will feel more at ease if you have others to brainstorm ideas or speak with over lunch. You may be tired of working alone and miss the social connection of working in an actual workplace.
Your Output Is Decreasing
Your mindset can shift from work mode to relaxation mode when you have access to the comforts and amenities of your own home. Flexible working hours might harm productivity.
It might be challenging to balance work and home responsibilities with a large family. If you see a significant decline in productivity, it's time to move your workspace outside.
You're Looking For A Responsible Office Address
Using your home address for all of your professional mail has drawbacks.
First and foremost, it can be a breach of your privacy since it might inundate you with business mail that you don't want to receive.
However, as much as we hate to tell it, it can give your clients the impression that you are unprofessional.
There's something to say about having a respected and well-known professional building as your business address. It gives your company a professional air, which can help clients and consumers feel more at ease doing business with you.
You Require Administrative Assistance
You'll eventually need administrative help to run your firm, such as someone to answer the phones, greet clients and customers, and manage your mail.
You may also find yourself short on time and decide that the time you spend cleaning and straightening up your home office would be better spent getting work done.
Hiring a virtual assistant is an option, but managing it can be challenging. Alternatively, you can rent an office space with administrative support included in your membership.
You can devote more time to what matters most: building your business with the help of competent administrative support.
You Require Access To Premium Business Tools
Have you ever found yourself in need of a tool you don't have but know you'll need to complete your task?
Is there a printer?
Is that a scanner?
Is that a fax machine?
When renting a private office space, you gain access to a full array of professional tools, so you don't have to second-guess whether you have everything you need.
Every company develops at a different rate and has unique requirements. Moving your business out of the basement (or spare bedroom or home office) when the time comes can help you take your firm to the next level of success.
Conclusion
So that's all we know about the time of moving your home office somewhere outside. But if still, you go through any doubt then feel free to ask us anytime. Moving Champs Australia is a renowned moving company in Australia helps people in solving their moving-related issues.
For more details and quick free quotes, contact us today.
Call On –  1800 870 500 OR

Email At – info@movingchamps.com.au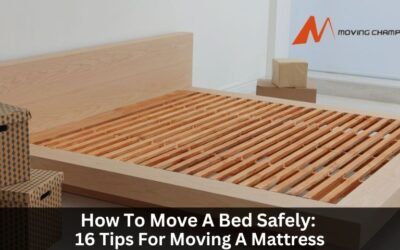 Moving to a new place is an exciting adventure, but it comes with its fair share of challenges. One of the most significant tasks on your moving checklist is to move a bed. And you must be thinking about how to move a bed efficiently and without a hitch. After all,...