Office Relocation is not as common as moving a house or apartment from one place to another. Many things are associated with moving your well-established business, but life is all about moving on and growing yourself under various conditions. Sometimes moving an office is a positive change and sometimes it is not.
But if you are also planning to move your office or business place in a very organized and hassle-free manner, then you are at the right place.
Here, expert removal analysts of Moving Champs in Australia have prepared a complete guide or series of steps to make your office relocation plan organized, no matter what size of office you have. We have designed this complete office relocation guide for both small and large business places.
Whether you are moving your office for growth, expansion, or due to any problems, it is always full of unexpected issues, stress, and ambiguity.
But with our given tips and guidance, you can effortlessly move your complete workstation with no damage and pain. We have mentioned all the issues like loss in revenue, delays in the move, etc., and its solution related to office relocation.
Follow the given guidelines correctly, and your office move will be as smooth as butter. So, Let's get started!
Plan Your Office Removal Before You Move
As we said earlier, office relocation is more challenging than moving a house. If you move your business to some different locality or long distance, it becomes more rigid and stressful.
Therefore, we advise you to plan your move correctly with your employees and business partners. Moving an office is not a small task. Consider all the factors for safe and successful office removals.
You take care of your essential goods and documents, workstation, equipment, office furniture, etc., while moving. And one wrong step can highly affect the speed and success ratio of your business relocation.
Therefore, plan everything in advance and as early as possible. Here are the series of steps you should follow when you plan your office removal:
Discuss Your Office Move With Your Employees
An office is a place where many people work. Before relocation, it is essential to discuss the reasons behind the office change, move the office, requirement of office relocation, etc., with your business partners and employees.
When everyone participates in the office move, there will be less ambiguity and more comfort during an office removal.
Discuss each thing properly like the moving date, the new location of your office, the moving budget, about the office removalists company you are going to hire, etc.
Organize open discussion and consider the suggestions and ideas of your employees also. This team discussion before moving your office will help you to move collectively without any delays and stress.
Announce Your Moving Date And New Location Officially
It is the next step in the planning stage after the complete discussion about the office move. Announce your moving date and the place you are going to establish your office to each employee, old and new clients of your office. You can give them notice about your moving date and place in several ways like,
Sticking an official notice on the office notice board
By emailing a detailed note about your move
You can inform your clients by postcards
By updating the information related to an office move on your official website
Inform by posting moving date and your new business place on social media
These were some ways to inform and announce the office moving date and new address of the office. Using any one or two of them, you can quickly report your office removal without any stress and even miscommunication between your current clients.
Prepare A Checklist Around The Requirements Of Your Office Relocation
Before you get started, it is necessary to maintain a to-do checklist and a checklist related to your office relocation requirements.
By jotting each thing on paper, you can easily divide and manage your office removal work without forgetting anything important during the removal process.
Prepare the to-do list and divide the task among your employees according to their understanding of office relocation. Sort and assemble all your goods and office items you want to move to the new place.
Moving only necessary things can make your office move easily and affordably.
Apart from this, here we have mentioned an example of an office relocation pre-move checklist for your better understanding:
Assembling and identifying the office equipment and furniture
Discarding the unwanted or broken things before moving
Making a list of things you are going to move
Analysing the infrastructure and the requirements of the new office
Cancellation of some common facilities like electricity, water, internet, landline, etc. from the current office
Hiring the best and affordable office movers and packers
Booking cleaning services for both before and after an office relocation
Hiring technical team for the uninstallation and reinstallation of the IT equipment and gadgets
These are the most basic and familiar things that you must consider in your office removal checklist. You add or subtract anything in this given checklist according to the requirements and scale of your business.
It will help you a lot during the office relocation and make your office removal safe and successful.
So, these were the three essential steps to plan your office removal. Everything will be easy and manageable when you plan correctly and at least a month before the actual scheduled date of moving.
If you are more worried and concerned about your office relocation, you discuss and plan your move with a professional office removalist company such as Moving Champs.
Professional office removalists have great experience in moving, and they can analyze and execute your office relocation very efficiently.
Hire The Professional Office Movers And Packers
After complete planning, the two most essential things left to do is packing and moving your office belongings to your new location. It is always advisable to assist a professional office removalists company with safe and damage-free packing and removal tasks.
Whether your office is too big or too small, it contains many essential and valuable things related to your business, and damage to any of those things may increase your moving expense or can cause tremendous loss to your business.
Many people try to move and pack their office belongings by themselves, leading to damage, injuries, liabilities, delays, loss in work and revenue, etc. To protect your move from all these severe issues, hire the best and affordable office removalists near you.
Moving an office is not only about relocating the office furniture and equipment, but it is all about shifting your established business and career, which you have built through your office. And experienced office movers understand this factor correctly.
They are very well-trained in moving heavy and fragile goods and possess good technical knowledge about electronics and equipment.
But before hiring any company, you should consider the following essential tips to get the best removal experience with the movers.
Always trust those office removalists who have all the necessary licenses and documents to work in the removal industry, be aware of moving scams.
Work with experienced and professional movers.
Check whether the removal company is following proper safety and covid-19 guidelines or not.
Read the reviews of the existing and old customers to examine the quality of the office moving services.
Get free quotes from various removal and storage companies and compare their estimated cost of moving office.
Don't judge the services only in terms of cost, book the cheapest but the best office removal company.
Hire that company which provide will provide you with all intermediate services like moving insurance, deep cleaning services, packing services, storage facility, truck or van removal services, etc., in one place
How Do Office Removalist Specialists Work?
When selecting the best office removal company then you don't need to worry about anything. They will efficiently pack and move your office furniture and workstation and leave you with no damage and a peaceful office relocation experience. Their years of experience are valuable and give you the best end-to-end service.
Office removalist companies with proper licenses are trustworthy, and they do not share your information with third parties or move your documents here and there.
Professional office removalists have their predefined steps to move an office or business place. They follow each step of the relocation process precisely and ensure no damage or loss to any vital equipment and documents.
Here are the steps followed by expert office movers and packers:
Office removalists start with a pre-move survey to provide you with an accurate estimation of the time and cost of removal
After a pre-move survey, create a plan of action around the service you demanded from them
The IT specialists and one of the removalists organise and manage the complete move
IT and Equipment removalists come in advance for proper removal of the office IT and technical infrastructure
The expert furniture removalists take care of the office furniture and dismantle them carefully
After disassembling the equipment, a team of professional packers pack all your office goods and furniture
A strong team of movers carry all the packed office belonging and load it into the truck
Office removalists have licensed driver who will move office belongings safely and deliver them on time; they have good knowledge about all the routes of your state and its interstates
The expert cleaning staff clean your old place and discard all the waste
After arrival at the new location, the brilliant office movers unload and reinstall everything safely and clean your new business place
In this way, office removalist specialists work, and while moving, they focus on the safety of your office belongings and ensure they will deliver everything on time. You can hire your moving company for regular commercial cleaning with your removal package.
You will require a professional cleaning service to maintain essential cleanliness in your office. Therefore, the best and most reliable office movers, packers, and cleaning staff is necessary to make the office relocation perfect and productive.
Key Points To Remember When Moving An Office
Business relocation or office removal is a challenging task, and its planning looks simple, but the execution part is a bit difficult and time-consuming.
Whether you are going to move a small office or complete a building, start planning early to make yourself free from stress and hassles.
When you decide to move your office relocation remember these essential vital points to remove all small and big mistakes:
Before relocation, examine your new office space and its area, try to establish your new office where your leads and clients can easily reach you
Check the requirements of your new office
Create a proper moving budget and finalize your office relocation plan
Hire professional movers and packers for the safe removal of your office belongings
Order new equipment and furniture in advance if you are going to remove the old ones
Sell unwanted goods to gain some money
Always select comprehensive moving valuation for the protection of your goods
Do not skimp on packing supplies
Transfer the essential utilities and services like cab, electricity, water, internet, landline, etc
Change your address from all the necessary places
As soon as you reach, unpack and reinstall everything quickly, and clean the space for the office reopening
If you are moving interstate, then do not forget to hire good storage space from your removalists
You can also book interstate removals service if you are moving your office long-distance
Take care of the security by the access control system
Last but not least, relax and celebrate your office relocation with your employees
Over To You
I hope these tips will give you success in your coming office removal and make your relocation safe and successful. By planning and managing, you can accomplish everything easily.
If you are looking for personal guidance for moving your office and expert removalists for your office removal, then you freely contact Moving Champs for cheap and reliable office relocation.
We provide you with the best plan of action and well-trained office removalists and IT experts to move and organize your office belongings.
After hiring us, you get the best quality service at a reasonable rate and on-time delivery. For more information and free estimations, you can get in touch with Moving Champs Australia customer support via call or email.
Call On – 1800 870 500
Email At – info@movingchamps.com.au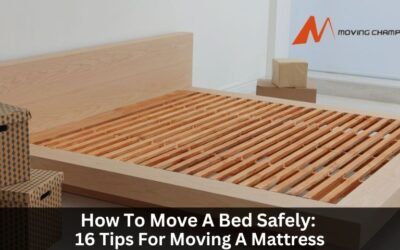 Moving to a new place is an exciting adventure, but it comes with its fair share of challenges. One of the most significant tasks on your moving checklist is to move a bed. And you must be thinking about how to move a bed efficiently and without a hitch. After all,...