There are numerous ways to protect your move from fraud, ranging from purchasing moving insurance to screening moving companies. Unfortunately, not everyone exercises caution when hiring a moving company. Thousands of complaints are filed against movers each year.
In 2016, over 3,600 consumers filed complaints about moving fraud with the Federal Motor Carrier Safety Administration (FMCSA).
Thirty-nine percent of the complaints involved property loss or damage, 37 percent involved overcharging, and 15 percent involved a hostage situation in which movers refused to return their belongings. With that in mind, here are some pro tips to help you avoid this happening to you.
Select Your Mover With Care
Do not entrust your valuable possessions to just anyone. Finding a reputable and trustworthy moving company is critical in protecting your move. To avoid any type of moving scams and rogue movers, first determine whether or not the moving company is properly licensed.
The United States Department of Transportation requires all professional interstate moving companies to have a license number. Local movers should be state-licensed.
All moving estimates should be based on an in-person inspection of your home or a video inspection. Accepting a moving estimate from a moving company over the phone or on the internet is not good.
Determine What Valuation Coverage Includes (And Excludes)
First, you should understand that valuation coverage is not the same as moving insurance. While you may believe that valuation coverage covers all belongings during a move, you may be mistaken.
For example, if you pack your boxes, it may be challenging to claim a mover for any items damaged in those boxes. Furthermore, your movers may not be held responsible for damage to goods caused by Mother Nature (i.e., fire, tornado, etc.).
So, before you relocate, please do your homework on valuation coverage to learn what it covers and, more importantly, what it does not protect.
Purchase Additional Moving Insurance If Necessary
When moving to a new home, regardless of your mover's level of liability, you should consider purchasing additional moving insurance.
Because valuation coverage is limited and cannot provide you with total compensation for lost or damaged items, purchasing moving insurance through a third-party insurance company may be suitable. This is especially true if you intend to transport valuable commodities.
Looking for a place to keep your belongings while you relocate?
Remember that many moving insurance policies will cover your belongings while in storage for up to 90 days.
Before Moving, Take Photos Of All Of Your Belongings
Take photos of all of your inventory before packing your belongings. If you are required to file a claim, you'll be able to show a before and after picture of the damaged item. Having photos on hand as evidence will help to strengthen your case and hold the movers accountable for their actions.
Keep An Eye Out For Red Flags
When looking for a moving company, keep an eye out for red flags. The FMCSA recommends keeping an eye out for the following red flags of moving fraud:
The mover refuses to allow an on-site inspection.

The mover claims that the charges will be determined after loading.

The mover requests cash or a large deposit in advance.

The mover demands that you sign documents that are blank or incomplete.

The mover does not have any local address or an official company-owned moving truck; and

The mover has not provided a written estimate.

The mover fails to give you a copy of Your Rights and Responsibilities.

The mover claims that their insurance covers all goods.
Check the FMCSA's list for more information on additional red flags.
Pack Meticulously And Strategically
Finally, the simplest way to safeguard your move is to pack all your belongings as carefully and securely as possible. This will keep your belongings from breaking while they are in transit. Use the appropriate boxes, packing supplies, and protective materials to ensure a successful packing job.
Furthermore
Avoid these rogue movers. Instead, even if you are dealing with a legitimate, licensed mover, you should take the following legal precautions:
Signing a contract with a mover in haste is a big mistake. Look into the mover's license number and any complaints that have been filed. Also, make contact with references.

Get a written estimate that includes the mover's liability for any damages during the moving process. The mover should also sign your copy of this written estimate.

It is incorrect to assume that all aspects of your move are automatically covered by insurance. Because every move is unique to the individual, introductory moving rates only provide the bare minimum of protection. Any additional insurance coverage you seek will incur additional costs, so plan on increasing your range through an insurance valuation that increases the mover's liability.

Request that your mover creates an inventory of the items being moved. While you may be charged for the time, it takes to inventory your belongings, especially if the mover charges by the hour, an inventory list is required if you file a claim after the move.

Never hire a moving company that does not provide a moving contract, also known as a bill of lading. The statement of lading details every aspect of the move, such as the services involved, when and how charges will be incurred, and the company's liability policy.

Only sign on the dotted line if you fully understand and agree with the contract.

After the movers have unpacked your belongings, you will be asked to sign a delivery receipt. Examine the moved property, paying close attention to the condition of each item. Any damages or losses should be noted on your copy of the bill of lading or inventory list and the mover's copy.
Conclusion
Moving Champs Australia team members will take the time to provide moving tips to ensure smooth delivery, especially for people who have little experience with moving.
Moving Champs Australia's movers are versatile, providing moving services to homeowners and commercial businesses.
For more details and quick free quotes, contact us today.
Call On –  1800 870 500 OR

Email At – info@movingchamps.com.au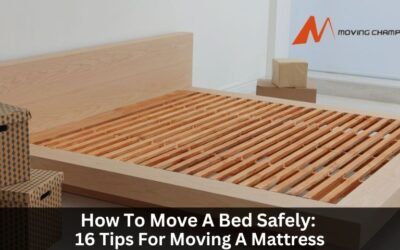 Moving to a new place is an exciting adventure, but it comes with its fair share of challenges. One of the most significant tasks on your moving checklist is to move a bed. And you must be thinking about how to move a bed efficiently and without a hitch. After all,...