Traditionally, companies and start-ups have picked capital cities like Sydney and Melbourne as their headquarters. They've benefited from major cities' economic and infrastructure advantages and access to a more incredible pool of talented workers.
Operating out of a capital city also carries a certain amount of status. Things are, however, changing. According to an NSW Parliamentary Inquiry, 25% of new firms are headquartered in remote areas.
Because of increased digital connectivity and consumer awareness of social and environmental issues, where you are, today is less important than who you are and how you do what you do.
As a result, many large and small firms are opting to take advantage of rising investment and interest in rural development, fueled by government assistance for tourism and initiatives to relieve population strain on main cities.
Where Does The Action Take Place?
Companies of all sizes are drawn to places like Geelong (VIC), Byron Bay (NSW), and Wollongong (NSW), which offer the lifestyle benefits of a regional location – more affordable housing, lower cost of living, less traffic congestion, and strong community connections – while still being within easy commuting distance of capital cities.
Investment By The State Government
The governments of Victoria and New South Wales are leading the way in providing financial incentives for enterprises to relocate to regional areas.
The Investment Attraction Package in NSW makes it easier for businesses to start in regional NSW and grow. Companies can leverage the package's strong financial incentives and interest-free loans to reduce government levies and relocation costs.
A lower payroll tax rate is also on the table. The other part of the Skills Relocation Assistance program provides $10,000 to skilled workers for relocation expenses and temporary housing.
These incentives are expected to attract international companies and skilled people to regional NSW. Businesses can also work with a Regional Investment Coordinator, who functions as a "personal assistant" to help them get through the process.
The government distributes a variety of subsidies through Regional Development Victoria (RDV) to create jobs, construct infrastructure, and support arts, culture, and industry in Victoria.
The Victorian government has established a $200 million Future Industries Fund to assist in developing high-growth industries such as medical, pharmaceuticals, new energy technologies, food and fiber, transportation, defense and construction, and international educational and professional services.
These industries will create well-paying positions in regional centers, attracting highly trained workers.
Regional Settlement Policy For New Migrants
The current government's population policy, which has yet to be revealed, focuses on immigration. New migrants would be directed to live in remote areas to relieve the strain on Australia's big cities. An increase inadequately certified and competent personnel could assist regional businesses.
Although settling skilled and unskilled migrants in regional areas is not new, there is talk of adjustments to present arrangements.
"A few years ago, we had a temporary, regional migration program where companies had wage exemptions for their employees and reduced skill criteria for individuals who worked and resided in regional communities," said Visa Executive migration agent Amanda Tinner.
Employers are now paying the same incomes in regional towns as in cities, thanks to changes in immigration regulations that have leveled the playing field for everyone."
This isn't the only difficulty. "How will the government entice people to come here while limiting them to a specific town?" What will entice migrants to stay in regional areas once this criterion is met?" Amanda enquires.
The policy has yet to be put into effect. Meanwhile, state governments are working hard to attract domestic and foreign visitors to visit lesser-known regional communities to enhance tourism revenue and urge businesses to take advantage of financial and tax incentives.
Is It Better To Move Or Not To Move

?
Because of government financing, significant tax incentives, and flexible policies, business grows in many regional locations. Companies are starting to take notice.
A combination of factors may make one town better than another for a business or start-up. Because of the available financial and tax benefits, regional locations may be more advantageous for businesses as Australia's population and demand for goods and services develop.
On the other hand, regional centers provide promise and possibility for companies looking to operate out of these places.
Make Your Products And Services Relevant
If you want to bring the next big thing to regional Australia, remember that folks in the country can be a little slower to accept new ideas (at least en masse).
If your business relies on foot traffic, make sure you have a backup plan in places, such as an internet store, a satellite office, or stockists in other areas.
Be Prepared To Travel Frequently
Catering is used to supplement the revenue of the region's most successful hospitality enterprises. Consultants labor over long distances (with many clinging to lucrative city contracts), creative industries and education experts use the internet to find clients worldwide, and farmers export their produce to city marketplaces.
Of course, some companies succeed in retail, hotel, and commercial services, but keep in mind that this isn't due to chance.
Carefully Consider Your Business's Location
When you discover the competitive pricing of area business rent, you're in for a pleasant surprise. If you've gotten accustomed to working from home, you might want to look into what's available or explore co-locating.
Being visible can assist you in acclimating to a new environment and may even allow you to increase your personal and professional networks.
When looking for a new location, look at the nearby businesses.
Do you like the general atmosphere of the neighborhood?
Do the services you provide complement those of your neighbors?
Conclusion
So that's all we know about relocating your business to a regional area. If Still, you go through any issues then feel free to ask us anytime Moving Champs Australia is a renowned moving company that helps people in solving their moving-related issues.
For more details and quick free moving quotes, contact us today.
Call On –  1800 870 500 OR

Email At – info@movingchamps.com.au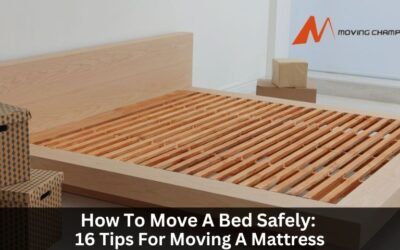 Moving to a new place is an exciting adventure, but it comes with its fair share of challenges. One of the most significant tasks on your moving checklist is to move a bed. And you must be thinking about how to move a bed efficiently and without a hitch. After all,...