When planning for relocation or a move, there are several key factors that you need to consider. In addition to gathering supplies and organizing logistics, you'll undoubtedly consider hiring a moving company.
Hiring movers is a great way to ensure that the entire moving process goes as smoothly as possible. While it may increase the cost, relocating or moving is exhausting work, and there's a lot to be said about the ease of outsourcing a task.
Professional movers will save you time and effort by doing the heavy lifting, but they will also make the entire moving day run more smoothly, enabling you to focus on other crucial moving day tasks.
Fortunately, most customers have positive experiences with movers, but horror stories exist. You can acquire a list of names by going to Google and typing in "moving business near me," but you should conduct additional research before entrusting your most expensive possessions to someone you don't know. 
Keep a few things in mind when you're looking for a moving company.
Recommendations From People You Know And Trust
While Google may not be the most trustworthy and reliable place to start your search for a moving business, your friends and family members are. Inquire about the experiences of other people you know who have used or would recommend moving companies in your region.
Someone you know may have a poor experience with a moving company that is otherwise well-regarded. They were deprecated with a slew of unexpected expenses that aren't posted on the company's website.
Similarly, someone may have had a positive experience with a new company that lacks a substantial online presence. If you start inquiring with friends and relatives, you might acquire some helpful information that you wouldn't find online.
Positive Feedback
When you've narrowed down a few moving companies to investigate, read online reviews to discover more about them. People frequently leave reviews after having a particularly good or bad experience, and both of these things are important to know before using a moving company.
A Proven Track Record Of Success
While there's something to be said about giving a young company a head start, selecting a reliable moving company with at least a few years of experience is typically the best option.
Based on the information you can discover online, you should be able to obtain a basic idea of the track record of their work in terms of being on time for the move, keeping moving charges fair, and maintaining the quality of their belongings.
If you don't have any strong suggestions for a new moving company, stick with those who have proven their worth over time.
Insurance And Licensed
We would advise you never to hire an unlicensed or uninsured moving company. Anyone can buy a moving truck and call themselves a trustworthy moving company, but only those who are appropriately licensed and insured are legally required to keep your stuff safe.
Look up the intrastate license rules in your state and make sure your moving company respects them. Each state has a list of movers who have been thoroughly vetted, assuring that you can trust them.
Transparent Rates
When you call a moving company to hire or book a service, they will give you a cost based on the number of hours and movers you'll need.
Must Keep in mind that this is a base price that excludes any additional packing materials, possibly higher costs for transporting large, heavy items, or other optional extras.
Although moving companies cannot provide you with an exact price on the phone, they can give you a moving estimate of how much you will spend.
Always ask what constitutes an additional cost for your move, and if the moving company refuses to proffer the information, go on to the next moving company.
A Suitable Match For Your Particular Requirements
Every move is unique in its way. Whether you're relocating or moving to a four-bedroom house or a studio apartment, or your office, make sure the moving company you choose to hire can accommodate all of your possessions. Consider your specific requirements before asking the right questions to ensure you're selecting the best option.
Whether the moving company has a moving truck that is the suitable size to fit all of your boxes and precious furniture while also adhering to any physical restrictions placed on your property.
Can the firm provide additional packing goods, such as moving blankets, bubble wrap, and clothes boxes, as needed?
Availability in a time frame that matches your demands and the ability to ensure pickup and moving dates and times are convenient for you.
Be On The Lookout For Renegade Movers
Every year, millions of individuals relocate and move to a new place, and while moving business fraud affects a small fraction of those who relocate, it is not unheard of.
To make sure a moving company is genuine, look for an active license, check their service records, and have a valid physical address (and not just a P.O. box). You should also be wary of any mover that asks for a deposit, especially if the sum is more than 20%.
Make Reservations As Soon As Possible
Book early if you're hiring moving services, renting supplies, or engaging specialists to work on the house, such as painters or cleaners.
If you wait too long, especially during peak moving season, you may end yourself paying more or not being able to get a moving truck or reliable and experienced movers at all.
In the moving market, competition is relatively high, and no matter where you live, you'll have plenty of options to pick from different moving companies.
Do your research, ask around, interrogate, and don't be hesitant to walk away from a company that raises any red flags for you. Overall, you want a company that has a proven track record of safety, dependability, and high-quality moving service.
You may only be using the company for one day. There are, however, numerous things that can go wrong. The more time and effort you invest in finding the ideal moving company, the less time you'll spend dealing with potential accidents.
Conclusion
With Moving Champs Australia, you can make your transferring work easier. To make the moving process more convenient and effortless for you, follow the earlier suggestions and select the appropriate ones. 
For more details and quick free moving quotes, contact us today.
Call On –  1800 870 500 OR

Email At – info@movingchamps.com.au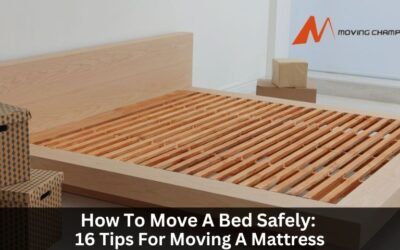 Moving to a new place is an exciting adventure, but it comes with its fair share of challenges. One of the most significant tasks on your moving checklist is to move a bed. And you must be thinking about how to move a bed efficiently and without a hitch. After all,...