Removalists are highly trained professionals for house removal services and help you relocate with ease without you having to worry about all the packing, loading, heavy lifting, and moving stuff.
You may not know different items need to be handled differently, be it packing, loading, or moving.
The whole relocating process needs to be done with utmost care and safety so that none of the items gets damaged while relocating from one place to another.
Since items need to be packed in different packaging, seal tapes, and boxes, based on their size, material, quality, and delicacy, you might want to leave it to the professionals to prevent any loss or damage to your treasured belongings.
House removalists have all the necessary high-quality equipment required for relocation and take care of your belongings, providing the safest services ensuring a hassle-free and happy move.
Commercial removalists have years of experience and training in relocation services and ensure safe and easy relocation that best serves customer needs.
Now The Question Arises- What Can The Best Removalists Do For You?
Well, a good removalist will do the following jobs for you to help you enjoy a stress-free move.
Packing- A well-reputed removalist company helps you pack your treasured belongings with high-quality packaging supplies to ensure your belongings do not get damaged during the relocation.
They would always understand the different packaging needs of different items and provide special packaging for each item.
A good removal company not only helps you pack your stuff but also organizes the whole removal process and helps you move out with ease.
Heavy-Lifting- Removalists are highly trained professionals, and they ensure you a hassle-free move by taking care of all the heavy-lifting and workload.
They do all the hard work for you and allow you to sit back and enjoy the relocation process.
Insurance- A good removalist would always ensure an insured move and take utmost care of your belongings. A good removal company provides insured removal service to its customers.
Pre-move survey- A good removal company would always offer you a pre-move survey to assess the inventory in advance and prepare accordingly for the move.
All-cost-inclusive quotation- A good removalist provides you with an all-cost-inclusive quotation before the relocation to help you make a decision and give you time to prepare.
A good removal company always explains its removal costs and additional charges clearly.
Offer lucrative options- A good removal company would provide lucrative service options for you to choose from.
They help you choose the right service package for you and explain all the benefits in detail so that you can choose the most beneficial and suitable one.
Ask for a moving schedule- A good removal company always plans the move and checks your moving schedule, and decides a moving date that suits you the best.
The company will ask you everything about the move, ask for a date you would like your move to be scheduled, and check and match their schedule with yours for a hassle-free move.
They also help you organize your moving schedule to avoid blunders on a moving day.
Time management- A good removal company values its customer's time and provides timely services to the customers. A good removal company performs the job in the scheduled time frame without compromising the service quality.
Customizable services- Good removalists tailor their services according to their customer needs and are always ready to take on a new task with utmost confidence.
Preferences change from customer to customer, so a removal company must always offer customizable services to achieve maximum customer satisfaction.
Affordability- A good removal company always provides affordable services that do not burn a hole in your pocket and deliver quality services.
Research and study- A good removal company will try to understand your move. They will always try to understand your moving needs and provide all the necessary assistance once the assessment is done.
They will not only extend a helping hand but understand each need and modify their service accordingly. They assess the whole situation and then suggest a plan that best suits your needs.
A good removal company would always welcome new changes and modify their services accordingly. A good removalist is always keen to understand the circumstances and provide appropriate assistance for the same.
Trained staff and modern equipment- a good removal company, extend help from highly trained removal staff and provides only high-quality equipment for the move.
A professional removal company hires only the best and experienced staff, training them with the best skills to deliver only the best of results to the customer.
They even provide you with a move manager to ensure the job gets done on time and ensure delivery of only quality services to the customers.
A move manager takes care of all your queries, gives solutions to all your doubts, answers your questions, and will keep in touch for any further assistance.
Storage and disposal- A good removal company extends storage and disposal support to its customers whenever needed.
They extend every possible assistance and suggest different options for storage and disposal for you to choose from.
They would understand your concerns and provide storage and disposal facilities to ensure that your move turns out to be a truly memorable and easy one.
A good removal company is always looking for opportunities to deliver only the best results and gain customer's trust.
Damage-free removal assurance- A good removal company assures the customer to accomplish the relocation without breakage or loss.
A good removal company gives damage-free removal assurance to its customers and makes sure your treasured belongings are safely removed and deposited at your new location.
Customer service and support- A good removal company extends customer service and support facilities and is always ready to offer its customers every possible support or assistance.
They would always welcome your complaints and extend every possible solution and immediate support to the customers.
Conclusion
We, the Moving Champs, provide you with the best removalists services across Australia. To get in touch,
you can call us on 1800 870 500

or send us an email at info@movingchamps.com.au.
Click here for more information about the removalists services that we are providing. We wish you a happy move!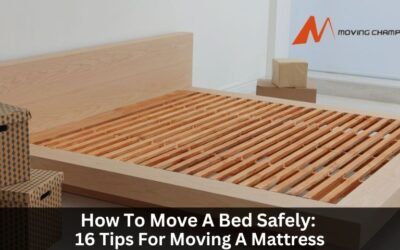 Moving to a new place is an exciting adventure, but it comes with its fair share of challenges. One of the most significant tasks on your moving checklist is to move a bed. And you must be thinking about how to move a bed efficiently and without a hitch. After all,...