While the theory behind a residential and business move is the same for a moving company, the execution is vastly different.
Knowing the difference between residential and commercial relocation can save you time and frustration when looking for a competent moving company.
What Is The Meaning Of A Residential Relocation?
When you move out of an apartment or a house, it is referred to as a residential move. You or a moving company packs your belongings, and you hire movers to transport your boxes and furniture to your new house or apartment.
These relocations can be completed with the help of a few movers and a truck. The only thing you'll have to worry about after the relocation is unpacking the boxes if you've already secured your new home.
One of the most challenging aspects of residential or house relocation is transporting precious and fragile items such as pianos, antique furniture, and glassware to the new location without harm.
It's vital to hire movers with years of experience with such valuables. Even if they're insured, knowing that you won't have to deal with broken belongings relieves stress and permits you to focus on other essential aspects of your move.
What Is The Meaning Of A Commercial Relocation?
Commercial relocations follow the same guidelines as residential relocations, but on a bigger scale. Small enterprises to massive factories can all benefit from commercial relocation.
Commercial relocation is a more complicated process. To help limit the company's loss of earnings, the relocation procedure must be completed quickly.
The movement of heavy machinery, such as that seen in a factory, is frequently a source of anxiety. Movers who have moved commercial things before are professionals at transferring this type of equipment.
Moving into a new commercial facility must be done quickly and precisely to avoid losing production. The office furniture, lights, and IT equipment should all be in place by moving in.
Moving significant pieces of machinery, computers, and other sensitive objects is also a risk. Some of these must be kept in specific conditions and must thus be transported with caution.
When moving such equipment, experienced movers take these concerns into account and cooperate with property management to ensure that your relocation or moving is as effortless and stress-free as possible.
Here Are A Few Reasons Why Commercial Relocation Differs From Residential Relocation
A Good Set Of Plans
Shifting from one home to another is relatively simple because it entails carrying furniture and moving things. It's a pain, but it's much easier than commercial moving, which necessitates meticulous planning and preparation to run well because commercial relocating has a significant impact on business operations.
Business owners should always choose a moving day with minor activity to minimize the risk of disrupting operations. It's important to remember that relocation days do not affect the company's financial hub.
Sensitive Materials Transfer
Commercial moving, unlike residential moving, is significantly more delicate because it entails the transfer of essential documents.
Protecting sensitive data is necessary and should remain a top priority for any successful commercial move. Client records, financial statements, legal documents, and internal accounts are just a few examples. Most organizations also have information technology (IT) equipment that stores essential data.
Working with some of the most excellent movers with plenty of skills and experience can help you reach this goal. The equipment is certainly treated with care, giving your company peace of mind.
Simplicity
Commercial relocations necessitate a little more forethought. Residential moves are far more accessible than business transfers when broken down. You only need to pack a few rooms, ready to depart.
Yes, you will have some bulky furniture, but a moving crew can transport it. It would be best to carry huge machinery, desks, office furniture, IT equipment, and other fragile objects. That will takes a considerable amount of time and space.
Sensitivity To Time
When it comes to deciding on a moving date for residential or commercial relocation, commercial relocation may have to be completed sooner. Residential relocations are often slower because they do not take as long as business relocations.
Commercial transactions frequently need to be made quickly. You need to be physically present for your employees, clients, or customers.
Items To Be Transported
When it comes to commercial moves, you usually only need one or two trucks to transport everything to your new location. Depending on the space you're working with, you may need several moving trucks for a commercial move.
To transfer their stuff, offices, warehouses, labs, and medical facilities may require many trucks. You can also load some items from your home into your car and transport them with you, but most commercial products are too huge.
Electrical Devices In Motion
The majority of employees use two or more gadgets at work. While transporting and unloading laptops and computers is a part of any home move, a commercial move requires more than half of the area filled with electronic items. Printers, fax machines, laptops, computers, CPUs, processors, and other things fall into this category.
Remember to count the vending machines, stationary workstations, and ordinary telephones. Business relocating needs far more time and planning than a typical household move.
Team That Moves
A moving crew for a home relocation will be far smaller than one for commercial relocation. To lift and carry heavy equipment, you'll need many people. If elevators are even an option, some objects may not fit.
To complete a home transfer, two or three laborers may be required.
That isn't going to work for most commercial motions! Make your relocation as simple as possible, and ensure you have the correct number of moving crew members.
Conclusion
Moving Champs Australia is all you need to do the job, whether you need office movers or apartment movers. Our staff is well-versed in moving and managing electrical equipment, so you can sit back and relax and chill while we take care of the rest. Contact us right now to make your move 100 times easier.
For more details and quick free moving quotes, contact us today.
Call On –  1800 870 500 OR

Email At – info@movingchamps.com.au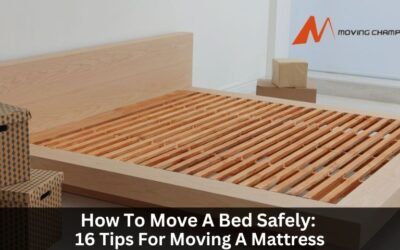 Moving to a new place is an exciting adventure, but it comes with its fair share of challenges. One of the most significant tasks on your moving checklist is to move a bed. And you must be thinking about how to move a bed efficiently and without a hitch. After all,...