While we all know that moving houses is a stressful affair, imagine having to relocate your entire office! "On average, two-thirds of staff who are given the duty of coordinating an office relocation is dismissed or depart within six months of the transfer," according to the International Facility Management Association statistics. 
"The old proverb wisely tells us that the road to hell is paved with good intentions," the old proverb wisely tells us.
While a troublesome office move may not be "hellish" – at least not in comparison to some of the other horrific things that can erupt on the corporate landscape without warning — suffice it to say, it's a stressful and costly scenario that you should avoid at all costs.
This leads us back to your workplace relocation, your staff, and their good intentions. Yes, they may want to help, but enlisting your employees in the office relocation might cause more harm than good, both to the firm and the employees themselves.
Reasons Why Your Employees Shouldn't Be A Part Of Your Office Relocation
They Can Cause Damage To Furniture, Equipment, Walls, And Other Items
Employees can easily cause damage to furniture and equipment by attempting to uninstall or move objects – even out into the corridor or to the lobby.
They can also scratch and dent walls, tear carpets up, smash into fixtures and outlets, etc. The repair or replacement costs can quickly mount into the thousands or tens of thousands of dollars – not to mention the aggravation and worry!
Production Disturbance
One of the most significant downsides of relocating your organization is the potential for downtime. Moving is complicated since it needs a considerable amount of time, effort, and money to settle in a new location finally.
Continuing commercial operations in both areas during the changeover is a potential solution to this dilemma. This could be made more accessible with the assistance of a reputable moving company.
Being Pessimistic
Negativity can impair your productivity and overall job happiness for various reasons. Working for longer hours, not getting along with a coworker, or being dissatisfied with the slow development can lead to negative feelings.
Negativity and irresponsibility can also alienate you from your coworkers, who may no longer want to work with you.
Procrastinating
Although you may believe that you produce your best work right before the deadline, procrastinating can ruin your job quality and the coworkers who rely on your work to complete their own.
Being Unable To Work As Part Of A Group
Even if you work in a more solitary position, you will almost certainly need to collaborate with your coworkers to complete a project or achieve a common goal.
Being a team player also entails praising your teammates' efforts, assisting them with their jobs, and maintaining a friendly demeanor.
If you aren't a team player, you may find it challenging to connect with your coworkers, and your manager may decide not to promote you.
Not Being Able To Communicate Effectively Nonverbally
The importance of your body language is equal to that of other forms of communication. Others may feel that you don't care or aren't confident in your talents based on your body language.
Being Sidetracked
In any workday and work setting, there are several distractions. Distractions can disrupt your job and significantly impact your time management, from a noisy office to notifications on your phone.
They Have The Potential To Harm Themselves Or Others
Cubicles, workstations, desks, and other items commonly seen in offices are deceptively hefty, as they're designed to be resistant and withstand a lot of weight.
Employees who change out of their suits for overalls to "help out" put themselves and others in grave danger. For example, cubicle walls and workstations can tumble over, and improper lifting can result in bodily damage, among other things.
Organizations will be responsible for medical bills and the apparent pain and suffering that employees will experience. They may even face legal action.
Refusing To Accept Feedback
Even if you've been in the same job for a long time, there's always something new to learn. Your manager, and sometimes even your peers, may give you comments on your work, but most individuals do not value it.
Taking Excessive Breaks
Even if your boss allows you to take breaks throughout the day, it's crucial to keep them to a manageable number and duration. However, people can't seem to stay concentrated on their tasks for long periods of time.
Lying
Lying in the workplace is never a good idea. This poor behavior can make your boss or coworkers suspicious of you, and if your falsehoods violate business standards, your boss may decide to fire you.
Tardiness
If you are consistently late for work or return late after breaks, it reflects a casual and complacent attitude.
They Can Put Off Packing Until The Last Possible Moment
Employees are busy, and they may wait until the last minute to pack up their workstations/work areas – not because they're lazy or forgetful, but because they have other things on their minds, such as serving customers and answering emails, and so on.
On the other hand, these dedicated personnel risk jeopardizing both the organization and themselves because last-minute packing is never a brilliant idea! Items can be misplaced, lost, or broken. you can hire last minute removals in Australia to pack your things.
In certain circumstances, the workplace transfer is forced to be postponed because the staff does not have everything packed, sealed, and ready to move when "go time" arrives.
Conclusion
Partnering with Moving Champs Australia is the most incredible method to ensure that workers have meaningful and positive participation in office relocation.
We'll collaborate with you to create a detailed workplace relocation plan, complete with instructions and timelines for your personnel.
Also, our skilled, experienced, and fully insured professional moving team will manage EVERY element of your office move, including moving and installing your office furniture safely and properly at the new location.
For more details and quick free quotes, contact us today.
Call On –  1800 870 500 OR

Email At – info@movingchamps.com.au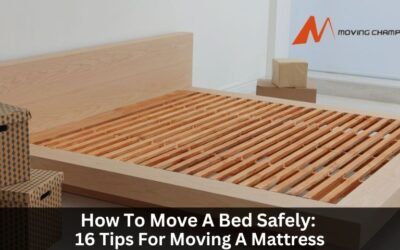 Moving to a new place is an exciting adventure, but it comes with its fair share of challenges. One of the most significant tasks on your moving checklist is to move a bed. And you must be thinking about how to move a bed efficiently and without a hitch. After all,...