Moving can be costly and exhausting, but there are ways to make it less so. You can use apps designed to help you keep track of your belongings and find the best moving rates.
Rather than collecting cardboard boxes, you can rent reusable plastic bins. But, more importantly, you can reduce the headache by decreasing the amount of stuff you have to schlep in the first place.
If you're moving, here are some items you should get rid of.
Kitchen Gadgets Or Small Appliances That Are No Longer In Use
That spiralizer that's been gathering dust on your counter?
The crumbs-filled toaster oven you've had for years?
Toss it out. There's no need to bring a gadget if it only has one rarely used function or can be easily upgraded.
Books That You Will Not Re-Read
Keep your favorites, host a mini-book fair in your apartment and invite all your friends.
Dishes That Don't Match
If your kitchen cabinets are a mishmash of plates, cups, and bowls that don't match, use the move to get a new set of dishes and get rid of the extras.
Items Of Food
Food items!!! Give them to someone you care about.
Shoes That You Do Not Wear
Shoes are heavier than they appear and do not pack well. You can get rid of any pairs you haven't worn in a few months (or ever).
Clothes That You Do Not Wear
I've been putting on a mini fashion show to see what works and doesn't. If something doesn't fit or I don't think I'll wear it, it goes into a pile to be donated or sold to friends.
Loose Papers
Papers! They have a habit of creeping into places and being vexing.
Instruments That You Do Not Play
Maybe you bought your favorite guitar a few years ago to teach yourself how to play. Perhaps it's still in your closet, buried in undercoats. Maybe it's time to say good-by.
Cleaning Materials
Liquids and cleaning supplies in part. It's more trouble to move them safely, and they're always the first thing you need, so I end up repurchasing them anyway.
Alcohol
When you're moving, the last thing you want is for a bottle of wine to break and soak everything else. Give your empty bottles of alcohol to friends or eliminate them.
Cheap Furniture
Cheap furniture that can be purchased for the same (or less!) than the cost of moving it.
Unused Toiletries And Cosmetics 
The old empty shampoo bottles lurking in your shower.
Adornments
Anything you've accumulated as a result of giveaways over the last year. Teddy bears with school logos, nightlights with school logos, and whatever else your school or workplace provides. Plus, anything you don't use or consider using, no matter how much you're compelled to keep it.
A shell you found on the sidewalk, a paper you received an A on, or a pair of socks your friend left in your room months ago and never returned for. Do you not use it? Through it away.
Anything You Haven't Gotten Around To Unpacking Since Your Last Move
Don't bother moving anything you didn't need to bring with you the last time.
What Should You Keep When You Move?
People have a terrible habit of becoming attached to things and having difficulty getting rid of them. You will probably have to say goodbye to some of them, which may break your heart. Don't worry, and this article will assist you in making the best decisions for your fresh start and decluttered future.
Making Some Important Decisions While Sorting
Allow yourself a break. You are not the first or last person in the world to wonder how to decide what to keep and what to get free of when relocating. Although this may appear to be the most difficult challenge, it is still manageable if you correctly set your priorities.
We understand that you may have grown fond of a particular pair of old jeans or a pillow that you have had since you were a small child, but now is the time to make some changes.
Relocating and moving to a different state can be a once-in-a-lifetime opportunity. Even if you're not a feng shui fanatic, it's pretty apparent that you don't want to begin another life chapter surrounded by old things.
It can feel liberating to have the opportunity for a fresh start – you can finally start over without anything holding you back. What's the point of a broken chair that you keep in the corner of your room but never use? It could be negative emotions, bad memories, or even material items.
Why would you keep a pair of ill-fitting jeans? You should categorize the items in your home that need to be purged and go through books, documents, dishes, clothes, and other things. This article will assist you in quickly decluttering and making some liberating decisions.
Think About The Length Of Your Move And The Size Of Your Space
Do you know what to get free of and keep when you're moving across the country? The further you travel, the less you want to bring with you.
It would be best if you left some large and heavy objects behind that you rarely use and kept practical items that serve a useful purpose or things with sentimental value. Otherwise, your relocation costs will be significantly higher.
Bring essential appliances and smaller furniture pieces of your home that are easy to transport. You'll most likely want a coffee maker, microwave, and hairdryer. You don't have to throw any of these away and then go out and buy similar items when you get home.
Declutter The Items And Keep Only Required Ones
Before making a packing list of items to keep, you should start the preparation process by decluttering. You most likely possess many useless things, but you do not have to relocate everything.
This applies to almost everything, whether you're packing dishes or going through your closet to pack clothes – some pieces are probably too worn out, or some dishes are damaged.
When packing furniture, think about how it will fit in your new home across the state. For example, if you decide which pair of glasses to bring, it's always better to get the one with all six glasses than the one with two or three broken ones. The same reasoning could be applied to a set of plates or cups.
Go Over Your Papers And Save All Important Documents
Consider organizing essential documents as well. This is useful because your paperwork most likely contains a lot of garbage. People, for example, may keep old contracts and recipes from purchases, as well as old bills. The majority of these documents are no longer required.
Just go through everything carefully and sort out important documents like marriage or birth certificates, contracts and mortgage documents, passports, and necessary medical records. These are the items you should keep with you when relocating because
professional cross-country movers will not take responsibility for them, and you will undoubtedly require them at some point in the future or even as soon as you arrive at your new home.
Maintain Your Children's And Pets' Favourite Toys
If you are relocating with children and begin packing their toys, you can include them in the process. Tell them to choose between their favorites and donate everything else, especially if they are getting older and no longer enjoy playing with some of their old toys.
Bring the kids' favorites and keep them close to them throughout the process to provide comfort. The same is true for your pets' toys. Always keep their favorite blanket or toy with them because it gives them a sense of safety and comfort, and keep it close to them throughout the relocation process to keep them calm. These items should be on your list of must-haves for your move.
The Following Step Is To Sort Your Clothes – Keep Only Useful Ones
When it comes to clothing, deciding what to keep and what to toss is also critical. People typically have an abundance of necessary clothing in their closets. Don't worry. You're not the only one hoping to need some of this stuff in the future, but you must be realistic. You should not relocate items that are worn out or that you have never worn.
Suppose you are not planning a last-minute move. They will only necessitate the purchase of additional packing materials and the waste of your time while packing them. There are far better options for this – you can always donate pieces that are still in good condition, or you can hold a garage sale.
In that case, you can try selling some of your belongings online to earn some extra money that you can later use for additional assistance – perhaps professional packing services or other convenient options that will make relocating to another city much more manageable.
Consider The Things Movers Won't Move – Some Items You Should Relocate Or Dispose Of On Your Own
Did you know that movers will not relocate certain household items? This typically applies to potentially dangerous possessions such as weapons and ammunition, fireworks, and flammable chemicals, but it also applies to some valuables. You do not want to get rid of your grandmother's jewelry, which you want to keep, but other items are not worth relocating.
You don't have to worry if you get rid of everything properly. Everything else can be repurchased once you've relocated to your new home. Perishable food is another consideration because cross-country movers will not transport it. If you have any further questions or doubts in your mind, contact your preferred company.
Conclusion
To conclude, I would like to say, when deciding which items to keep, you should also consider how to get rid of the rest. You could, for example, sell some of them or donate some of them.
Recycling is also something to think about, if at all possible. Now that you know what to keep and what to toss, it's time to learn some other moving tips and make a relocation to-do list.
When you've finished decluttering, you can move on to the most crucial part: packing everything you've decided to take with you. You'll also be able to save money on moving expenses and use that money to decorate your new home, making it a win-win situation.
For more details and quick free moving quotes, contact us today.
Call On –  1800 870 500 OR

Email At – info@movingchamps.com.au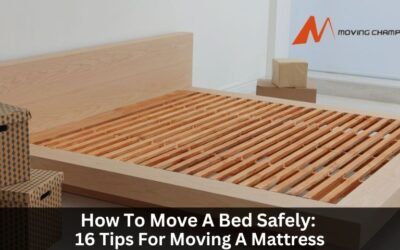 Moving to a new place is an exciting adventure, but it comes with its fair share of challenges. One of the most significant tasks on your moving checklist is to move a bed. And you must be thinking about how to move a bed efficiently and without a hitch. After all,...